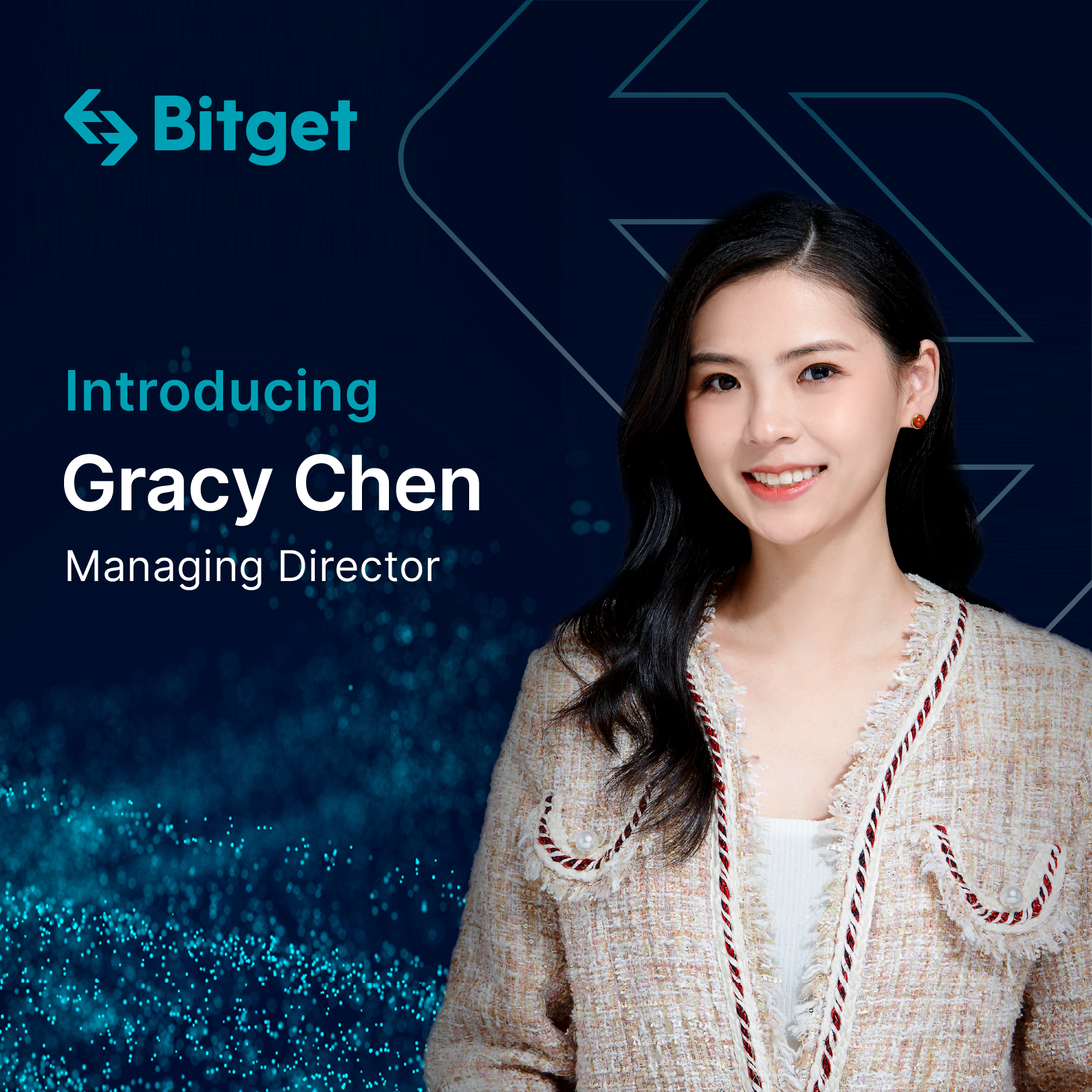 Bitget Appoints Gracy Chen as Managing Director Singapore, June 1, 2022 – Leading global crypto exchange – Bitget today announced the appointment of Gracy Chen as Managing Director, who will lead Bitget's growth strategies as the platform accelerates its global expansion plan.
With a presence in more than 50 countries around the world, Bitget is growing at an unprecedented rate.  Earlier this year, Bitget announced that its derivatives trading volume reached an all-time high of $8.69 billion, representing 300% growth over the previous year.  In addition, its user base has grown significantly, reaching two million users worldwide.
With Bitget's exponential growth over the past year, Chen's appointment will focus specifically on managing growth in the broader global markets.  Commenting on Chen's appointment, Bitget CEO Sandra Lou said, "We are delighted to have an experienced professional like Gracy join us and we look forward to using her expertise in this field to further strengthen our growth strategies in international markets."  said.  Witnessing the tremendous growth of Bitget since its market launch in 2018 and its latest ranking in the top five globally by CoinMarketCap and CoinGecko by derivatives volume, Chen was inspired to rejoin the Fin-tech industry and devote his full attention to the crypto space.
After his appointment, Chen will oversee the growth and expansion of global markets, Bitget's strategy, execution, business and corporate development.  It will also amplify Bitget's voice and presence in the wider crypto ecosystem, helping the brand develop further under his leadership.  Chen joined Bitget, taking on executive roles at XRSPACE, a Taipei-based VR technology company.  Invited by XRSPACE President Peter Chou, Gracy oversaw and led government and public relations, as well as marketing and business development duties in the region.  Former presenter and producer on Phoenix TV's technology and finance channel, one of the largest media groups in China, Chen has covered extensively on financial news and events, including the World Economic Forum.  During his time at Phoenix, he interviewed technology leaders, including Wired's founding editor Kevin Kelly.  "This is an exciting time to join a crypto platform that is leading the growth in global derivatives trading.
I have always been an avid investor in crypto and related startups.  As one of the first investors of BitGet's sister company and Asia's leading decentralized wallet, BitKeep, I have witnessed the development and growth of the brand over the years.  I am delighted to join an organization full of ambitious and intelligent individuals and guide Bitget to further growth as a portal that transcends Web2 and Web3, connecting CeFi and DeFi, and creating a broad bridge to the vast crypto network.  " said Gracy Chen.  Chen was named a Global Shaper by the World Economic Forum in 2015.  A graduate of the National University of Singapore, Chen will also earn an MBA from the Massachusetts Institute of Technology.  About Bitget Founded in 2018, Bitget is one of the world's leading cryptocurrency exchanges.  Now serving more than two million users in over 50 countries around the world, Bitget has stepped up its mission to promote decentralized finance in 2021 with a workforce of 500 people spanning over 20 countries.
Since Bitget's official launch in the crypto derivatives market in June 2019, the platform has now become one of the largest crypto copy trading and derivatives exchanges in the world, ranking in the top five globally by CoinMarketCap and CoinGecko for derivatives trading by volume.  Bitget's flagship product, One Click Copy Trade, has attracted more than 20,000 copy traders worldwide bringing innovation to the experience for crypto derivatives traders.  Strictly adhering to the philosophy of 'Better Trading, Better Life', aiming to be the portal that transcends Bitget, Web2 and Web3, connecting CeFi and DeFi, resulting in a wide bridge, providing users globally with secure trading to the comprehensive and extensive crypto network.
is committed to providing solutions.  In September 2021, Bitget announced its sponsorship as the first jersey partner of world-renowned soccer team Juventus, and soon after as the official esports crypto partner of the PGL Major.  Partnerships with the leading esports organization Team Spirit and Turkey's leading and well-established football club Galatasaray were also announced in early 2022.  For more information, please visit: Official website: Bitget.com Telegram: https://t.me/bitgetturkiye Twitter: https://twitter.com/bitgetturkey LinkedIn: https://www.linkedin.com/company/ bitget-global/